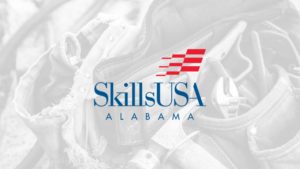 Two Alabama Career and Technical Education Teachers received great news amid the challenges of the virtual learning that have recently become the new normal. Sarah Heath, Building Construction instructor at Mortimer Jordan High School in Jefferson County, and Jason Blackwell, Industrial Maintenance instructor at Brewton Career Technology Center in Escambia County both received Chapter Resource Grants for their SkillsUSA Chapters.
This grant is generously provided by Lowe's with the intent to strengthen local SkillsUSA chapters and includes $1,000 worth of educational resources. The resources included in the grant are intended to help programs started withing the last two years excel at fulfilling the SkillsUSA mission to empower its members to become world-class workers, leaders, and responsible American citizens. Resources will promote the SkillsUSA Framework skills that include personal, workplace and technical skills grounded in academics.
Scott Wiginton, Executive Director of Alabama SkillsUSA, says "industry partners such as Lowe's are a vital part of fulfilling our vision for producing the most highly skilled workforce in the world, and providing Alabama Career and Technical Education students the opportunity for career success." Lowe's supports many SkillsUSA initiatives across the country. Bryan Upton, Alabama SkillsUSA High School Director added, "We appreciate what Lowe's has done to invest in SkillsUSA students at the individual chapter level and at the state and national level. With the new landscape of education brought on by current circumstances, the resources provided by this latest grant are more important than ever".
SkillsUSA is one of the Career and Technical Student Organization that is recognized by the State Board of Education as an integral, co-curricular component of each career tech programs that enhance classroom instruction, develop leadership and workplace readiness skills, and provide opportunities for personal and professional growth. Alabama is ranked fifth in the country for the largest SkillsUSA membership in 2019-2020 with 23,576 members across the state in both high school and post-secondary programs. Alabama also ranks as the second largest in college membership, and ninth largest in high school membership across the country. www.ALSkillsUSA.org.