Integrate the SkillsUSA Framework
Develop America's Future Workforce
Integrate the SkillsUSA Framework
Develop America's Future Workforce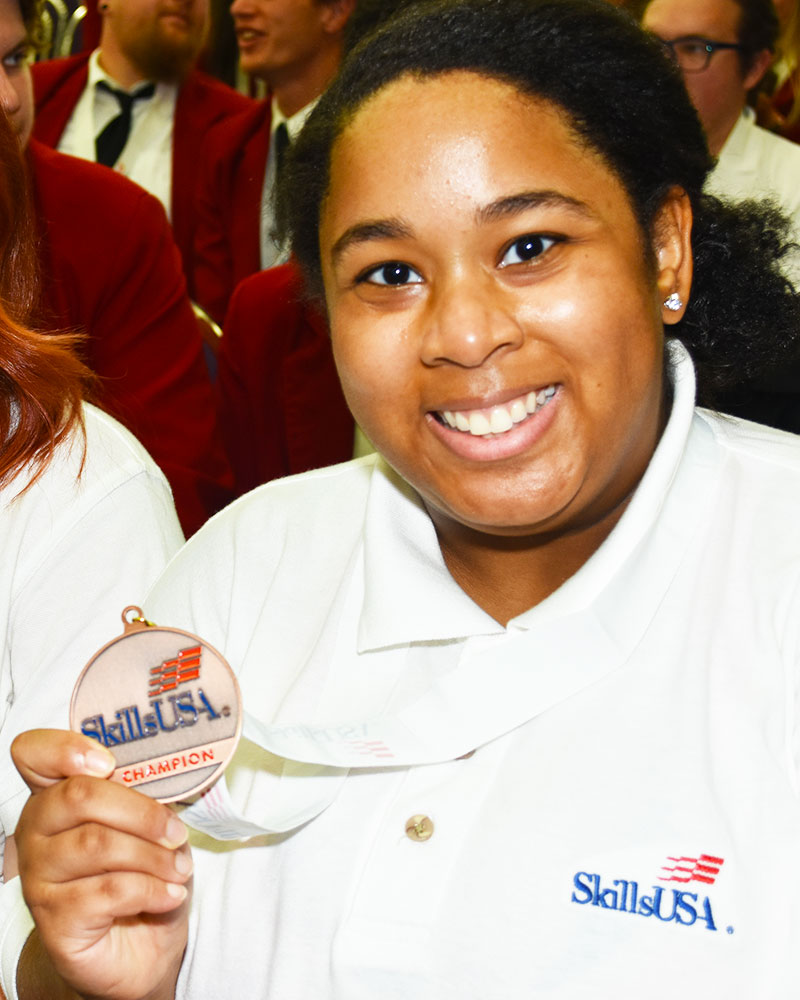 We Help You Prepare Students to be World-Class Champions at Work
Through our partnership with educators like you, we help you connect what you are teaching in the classroom to the needs of industry. Through industry-recognized apprenticeships (IRAPs), we help your 10th, 11th, and 12th grade students gain the experience necessary to fill the demands of industry.
Through our unique SkillsUSA Framework, Alabama SkillsUSA helps you prepare students to achieve the career success and economic security they deserve. The SkillsUSA Framework empowers members to become world-class workers, leaders, and responsible citizens by specifically targeting three essential components of workforce development: personal skills, workplace skills, and technical skills grounded in academics. It gives you, as an educator, a common language for students to articulate what they gain from SkillsUSA participation to employers, administrators, parents, and other students. More so, it gives you an industry-approved way to assess student skill development and your CTE programs.
Ready to get involved? Connect with our state staff and we'll help you start a chapter at your school.
MEMBERSHIP RESOURCES
Alabama SkillsUSA is here to help every step of the way.
Essential tools to kick-start your SkillsUSA chapter.
Private or for profit Schools may join SkillsUSA but will not be eligible to compete in SkillsUSA District or State competitions.
Advisors MUST be paid Professional Members before your students will be eligible to compete.     (1) instructor per program area.
High School program areas must have a minimum of (12) student members to be eligible to send competitors to the District or State Level.
College program areas must have a minimum of (12) student members to be eligible to competitors to the State Level.
High School and College programs that have (20 to 29) student members, may send (2) contestants per Technical contests.  (30 or more) student members, instructors may send (3) contestants per Technical contest.
NO additional contestants for Co-op students will be allowed!
Three (3) contestants is the maximum contestants from a chapter per Technical or Leadership contests" Chapters need to host local contests to determine which 3 students should represent the local chapter for Leadership contests.
Program Affiliation Fee
Program Affiliation Fees of $150 will be required by each training program annually. Fees will be paid to "Alabama SkillsUSA" by the Fall membership deadline set by Nationals.
Make checks out to:
Alabama SkillsUSA
Mail checks to:Alabama Department of Education
Room 3307 Gordon Persons Building
P.O.Box 302101
Montgomery, AL 36130-2101
National Dues and Deadlines
SkillsUSA student member dues are $15.
SkillsUSA professional membership dues are $30.
The national membership deadline is March 1 of each year.
Make checks out to:
SkillsUSA
Mail checks to:
SkillsUSA,
14001 SkillsUSA Way,
Leesburg, VA
District Conferences
No Registration Fees
State Conference
No Registration Fees
Contest Fees
There will be No Prize Fees for any State Contests this year. Few contests may have a contest fee for contest supplies or meals.
Have Questions About Membership?