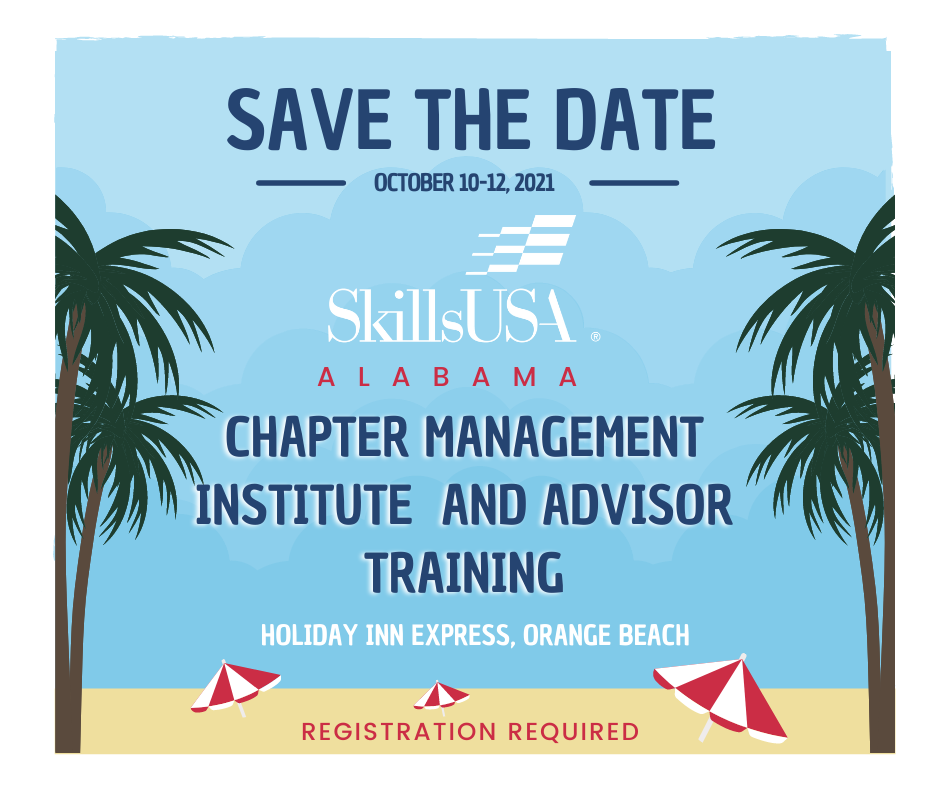 Registration is closed for the 2021 event.
We hope to see you next year!
We are excited to announce the return of the Chapter Management Institute for local chapter leaders. You are invited to attend CMI on October 10-12, 2021, at the Holiday Inn Express in Orange Beach, Alabama. This event will be engaging and fun with active development of skills while earning professional development hours. Novice and experienced SkillsUSA advisors are welcome. Attendees will also be given materials to kickstart your chapter.
Download the agenda using the button below.
There is no fee to attend Chapter Management Institute, but you will need to register. Attendees will be responsible for their hotel lodging and travel. A $50 deposit will be required by September 15th to secure your hotel room. However, we have a solution! Your hotel fees will be covered if you can engage an industry partner at the SkillsUSA Golf Tournament on November 1, 2021. Industry partners that register a team or sponsor a hole can act as your sponsor. For more information visit alskillsusa.org under the "Events" tab.
To register visit alskillsusa.org under the "Events" tab. Select the Chapter Management Institute page and complete the form. Hotel information will be forwarded to registered attendees via the email provided.
Make payment to Alabama SkillsUSA, Attention Lisa Bruce. Alabama State Department of Education, 3307 Gordon Persons Building, P.O. Box 302101, Montgomery, AL 36130
If you are interested in securing a sponsor for your hotel fees, View the Sponsorship Invitation Letter. Please contact Tessa Brown at 334-694-4792 or 251-298-4792 or email to tessa.brown@alsde.edu for more information.