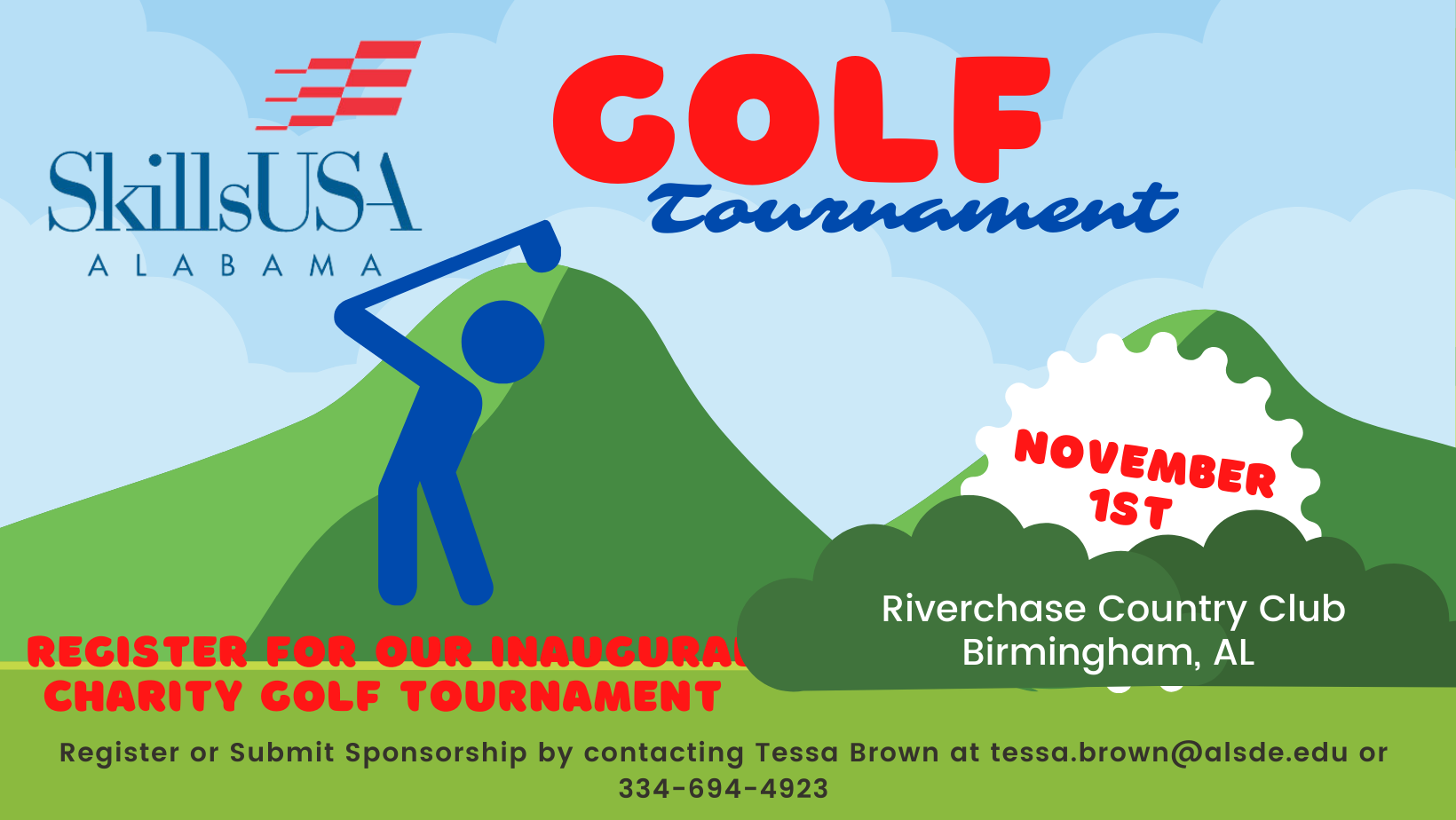 Alabama SkillsUSA will hold its inaugural charity golf tournament Monday, November 1st at Riverchase Country Club in Birmingham, Alabama. Proceeds from this event will provide professional development, classroom funding, competitive events and leadership experiences for our students and instructors in Career and Technical Programs in Alabama schools.
We are requesting sponsors and participants for this event. There is a myriad of options to get involved. Consider one of the following opportunities: register a team of 4 players, provide a prize, sponsor a hole, or become a tournament sponsor. Promote your company by setting up at a tee or registration area to interact with golfers. We will award prizes for closest to the pin, longest drive, and other fun competitions. Sponsors will receive signage and recognition on our media platforms.
Register a Team of 4 – $1000 per team/$250 per person
Provide a prize
Sponsor a tee – $500 (Includes signage at one of the holes with option to set up tents and have personnel on certain holes.)
Sponsor breakfast, lunch, drink cart or reception (Includes signage at the serving site. Food and Beverage is provided by Riverchase Country Club)
Sponsor the tournament $2500 (Includes entry of team of 4, premium signage, the option to sponsor a specific tournament event *see list below) You can choose to sponsor one of these challenges:

Long Drive Challenge
Circle Hole
Beat the Pro
Speed Hole
Dunk Tank Hole
Longest Drive – Opposite Hand
Closest to the Pin
Big Break Challenge
Random Club Challenge
Golf Pong
Dice Game
Hole of Fortune
Golf Ball Drop
Poker Run
Straightest Drive
Hole in One
Putting Contest
Shootout
Chipping Contest
Guess Your Distance
Make payment to Alabama SkillsUSA, Attention Tessa Brown. Alabama State Department of Education, 3307 Gordon Persons Building, P.O. Box 302101, Montgomery, AL 36130
Please contact Tessa Brown at 334-694-4792 or 251-298-4792 or email to tessa.brown@alsde.edu for more information.